Ending Male Pelvic Pain, A Man's Manual.
The Ultimate Self-Help Guide for Men Suffering From Prostatitis, Recovering from Prostatectomy or Living with Pelvic or Sexual Pain, by Isa Herrera, MSPT, CSCS
What They Are Saying About Ending Male Pelvic Pain
"The valuable advice you'll receive in this text is factual, safe and effective. I applaud Isa for her ability to reduce complex concepts of male pelvic pain and male pelvic dysfunction into a framework of simplicity and clarity that's unmatched."
...Geo Espinosa, N.D., LAc, CNS, Director of Integrative Urology at New York University Langone Medical Center
At Last, The Perfect Resource Specifically For Men
Isa Herrera, MSPT, CSCS, Physiotherapist and men's pelvic health expert, has written the ultimate self-help guide for men suffering from pelvic pain, sexual pain, or recovering from prostatectomy surgery. In this unique book, Ms. Herrera delivers the goods, sharing her trade secrets with you, putting you on the right track towards a pain-free lifestyle. This manual will teach you how to see and treat your pelvic floor muscles in a different way opening the door to health and well-being.

Ending Male Pelvic Pain will awaken the healer within you, putting you on the road to a fast recovery. Ms. Herrera does not hold back, instead she empowers you with the knowledge you need to defeat your pain.

The large selection of techniques in this book are based on Ms. Herrera's real-life experience in treating men at her NYC based pelvic rehab healing center, Renew Physical Therapy. This multi-keyed book fuses yoga, Pilates, internal massage, visualizations, trigger point therapy, and self-care tools, ensuring that there is something for every man who has suffered long enough with pelvic pain, testicular pain, penile pain, and conditions relating to urinary leaking. In this book Ms. Herrera shows you how she helped countless men get on a path to self healing, ultimately breaking the cycle of pain.

With this book Ms. Herrera is declaring a revolution, stating "I have given you the tools you need. Don't hesitate to get started, end your pain and be the hero of your own story".
About Isa Herrera, MSPT, CSCS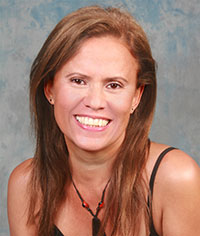 Isa Herrera, MSPT, CSCS owns and operates Renew Physical Therapy, a leading healing center in New York City. She has dedicated her career to helping men find relief from conditions such as prostatitis, pelvic pain, sexual dysfunction, incontinence, and symptomsrelating to prostatectomy. Ms Herrera's approach to healing is holistic, utilizing techniques that tie together mindful-painful body components. She believes that everyone holds the key to their pain relief, all they need is to be shown the way. Her goal is to always empower her patients with the tools they need to succeed on their own.

Ms. Herrera's passion for men's health and healing began after working for many years with women suffering from pelvic pain. Ms. Herrera understood that this is not only a woman'sproblem, but also that men suffer just as much as the women do.

Ms. Herrera's experience with her patients lead to the development of her treatment protocols and therapeutic methods, which fuse together many types of exercises, self-carepractice and relaxation techniques. Her men's health program is called The XY Health Program For Men TM Ms. Herrera's philosophy is, "with the proper amount of guidance and encouragement, men can be helped to control their pain or condition, get their bodies back and return to the lifestyles they desire."

She has appeared on national television on The Regis and Kelly Show, NBC's Today Show, and on PBS, where she promoted her work and her books, The Pregnant Couples Guide to Working Together, and Ending Female Pain, A Woman's Manual. Her third book, Ending Male Pain, a Man's Manual, is hands down the most comprehensive resource onthis topic available on the market today, filled with advanced techniques to relieve pain and presented in a way that any man can understand and use to conquer his pain.

Ms. Herrera holds a Masters Degree in Physical Therapy from Hunter College and a BA in Psychology and Biology from Fordham University. She is a member of the American Physical Therapy Association, National Vulvodynia Association, and International Pelvic Pain Society, and is also an adjunct professor at Hunter College, where she teaches 3rd year PT doctorate students.